Sierra Container Group Joins NWRA

Sierra Container is a new member of the National Waste & Recycling Association. Whether it is advocacy, safety or participating in ANSI standards, Sierra is committed to being enganged with the association. Sierra's President, Mike Schwalbach, currently holds the vice chair position for the supplier board of governors.
Sierra Container Launching a New Line of Residential Containers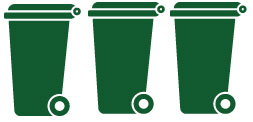 Sierra Container is pleased to announce the launch of a new line of containers in the traditional 95, 64, 32, and 21 gallon sizes. In addition, Sierra Container offers a kitchen organic container for the growing need to separate the organic waste stream.
Sierra Container Group Supports EREF at the Annual Fall Classic

Sierra Container, an advocate and supporter of the Environmental Research and Education Foundation, participated in the 2016 EREF Fall Classic in the Woodlands TX. The money raised from the event contributes to the unbiased scientific research directed toward helping all stakeholders of the solid waste & recycling industry.